NEWS
EXCITING AGENDA UNTIL THE END OF THE SEASON!
In the coming months, the EM has exciting tasks ahead: in addition to important performances in Portugal (April) and Germany (February and July), the group will have its debut in Turkey (March) and South Korea (July). The program includes works by Mozart, Schubert, Wagner, Falla, Turina and Albéniz, among others.
EM CELEBRATED ITS 10TH ANNIVERSARY WITH A CONCERT AT THE BERLINER PHILHARMONIE
The Ensemble Mediterrain commemorated its 10th anniversary on october 8 with a special concert at the Philharmonie in Berlin featuring works by Mahler, Saint-Saëns, Wagner and Albéniz, as well as a world-premiere of a work composed by Hasan Uçarsu.
Uçarsu is one of the most respected Turkish composers of all time. With the work "Handgemacht" for flute, oboe, violin, cello, piano and percussion, he makes an interesting connection between the musical traditions of his homeland and the modern.
more...
PRESS
DNN, Dresden
"(...) a colorful and joyful interpretation. Energical passages contrasting with other more sustained, played with impetus and youthfulness, caused us emotion. Drifty conflicts and melodies offered with such magic that leave us nothing else to wish, in short, a remarkable concert."
CATALUNYA MUSICA, Barcelona
"The quality of the group became patent with a fresh and accurate interpretation and with the right balance between passion and elegance."
BUENOS AIRES HERALD, Buenos Aires
"Splendid visitors from Europe! (...) we heard a very nice and accomplished Interpretation."
EMOL, Santiago do Chile
"The ensemble distinguishes itself through the serious focus, the search for a balanced sonority and a fair-minded stylistic approach to the composers. (...) a high-quality interpretation."
JORNAL DE LETRAS, Lisbon
"(...) extraordinary the quality of these young musicians. (...) maturity and enviable artistic path."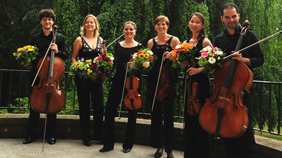 » THE ENSEMBLE
The EM is a chamber music group founded in 2002 in Berlin. Its trajectory includes appearances in festivals of major importance (...)
more...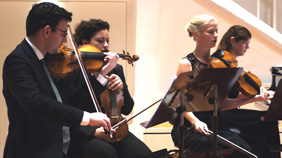 » NEXT CONCERTS
24.02.2013 - Coswig (DE)
27.03.2013 - Istanbul (TR)
14.04.2013 - Dresden (DE)
20.04.2013 - Lisbon (PT)
more...